Your next project is worthy of the best. As a matter of fact your reputation and your company's reputation depend on these selections. The finishes that you have chosen must not only be aesthetically appealing they must also be the best for the future and the best for our environment. Browse our updated web site and you will find the most environmentally responsible flooring products that are available on the market. Have a question? Try our new "Chat" option to reach us. Or if you require samples simply fill out the online form to have your selection sent to your address free of charge.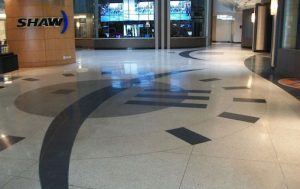 "Floors for a Lifetime"
You might ask yourself what do the words "Floor for a Lifetime mean?" This simple phrase can have a big impact on the environment and our future. Simply put our flooring systems are designed to last the lifetime of a building without the need to be changed. A Floor for a lifetime is a floor that is manufactured from ingredients that are environmentally friendly. Our floors if required can either be refinished or recoated compared to removal and replacement. Could you imagine that the most durable, long lasting, easiest to maintain and most cost effective floor is in almost every building however it usually covered? Read on to learn more.
COURQUES LIQUID LINO: Check out our newest "Floor for a Lifetime" product: Corques Liquid Lino Fluid Applied Seamless Resilient Floor designed for Healthcare/Medical. This unique product is made of the same ingredients as marmoleum minus the jute backing. That is not the only difference though; supplied in 33lb buckets and mixed on-site, poured and troweled smooth the final product is a true resilient floor that is completely seamless. No cutting, gluing or welding is required. If for some reason the floor does show some signs of wear a new application Corques Liquid Lino can be applied over top of the existing without the need to remove and dispose in a landfill.  The fluid applied process also allows us the ability to install at an amazingly fast rate of 1000sf/h and 15000sf/ day. Keep browsing to learn more about why we chose Corques Liquid lino as one of our "Floor for a Lifetime" products.
TERRAZZO: Site finished Terrazzo is making a resurgence and as a "Floor for a Lifetime" Terrazzo will last the life of a building without the need to be replaced. Terrazzo can be used for floors, stairs, walls and cove base. Areas best suited for Terrazzo include but are not limited to Hospitals, Courthouses, Museums, Sports complexes and Event Centres. Seamless in design options and with endless color combinations it makes perfect sense to revisit this often forgotten floor choice.
HiPERFLOOR POLISHED CONCRETE:  Would you believe that the best floor choice is actually no floor at all. Almost every commercial building has a concrete slab poured and it is this slab that becomes our canvas to be turned into a beautiful floor. Our Hiperfloor Polished Concrete is another 'Floor for a Lifetime" product. By utilizing the existing slab as the final floor there is no need to manufacture, ship, or install a flooring product. Whether you are completing a new floor or a renovations Hiperfloor Polished Concrete offers a beautiful floor with natural characteristics and is completely seamless which makes it easy to care for. Polished Concrete floors have the ability to be refinished as opposed to replacement and this alone makes it a great choice for the environment. A Hiperfloor Polished Concrete floor will allow for LEED credits and is also very cost effective.  Hiperfloor was created by Husqvarna and has been designed as a complete system of Machines, Diamonds, chemicals and sealers.
Included in our service Vadel generates progress reports that include testing for DOI, GLOSS and Haze. We do this for you in order to ensure that the steps we have provided in the specification have been met.  Contact us for more information regarding this amazing flooring choice.
Vadel "Floors For A lifetime"