HIPERFLOOR POLISHED CONCRETE
HIPERFLOOR® POLISHED CONCRETE
With their ease of maintenance and beautiful high-gloss finish, Hiperfloor® Polished Concrete floors are becoming the new superstars of the decorative flooring world, especially in high-profile retail and commercial settings. Polishing the exposed concrete eliminates the energy and material consumed by applying a floor covering. It is something to consider when building or modernizing towards a more green solution. Polished concrete floors are low-maintenance, as they are more durable and easier to clean than many flooring options. Its relatively high coefficient of friction can make it non-slippery. Polished concrete reduces dust mite and allergen problems, and does not support mould growth. Highly reflective polished concrete reduces lighting needs and improves natural lighting.
STAINED/DYED POLISHED CONCRETE
---
Concrete stains are one of the ways to add color to existing concrete floors. Concrete dyes offer more vibrancy of color (which can be more intense than chemical stains). Dyes are often used in conjunction with Hiperfloor® Polished Concrete because they are easy to use and the application process is quick. Engraving, scoring, cutting, stenciling are just a few of the ways that Hiperfloor® Polished Concrete can be customized in addition to coloring.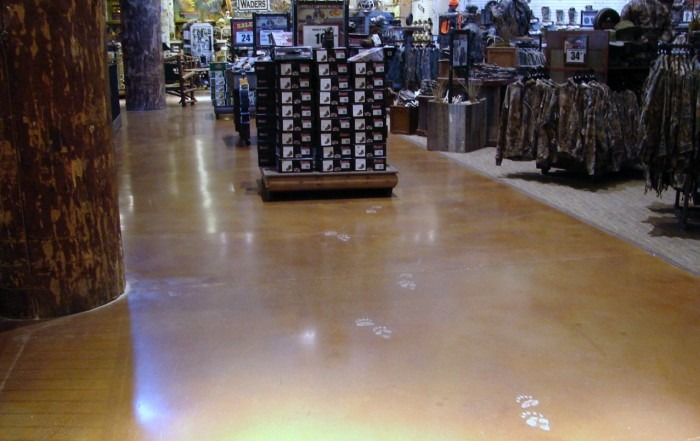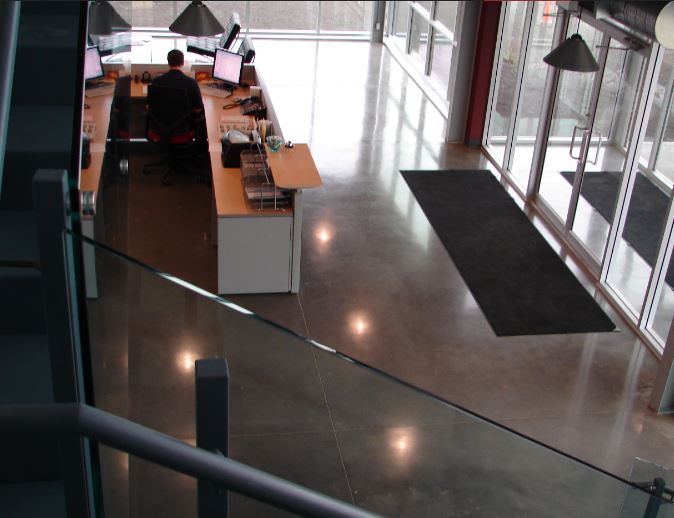 POLISHED CONCRETE VARIATIONS
---
Hiperfloor® Polished Concrete is considered a good sustainable design flooring option because it makes use of the materials already present. Although most existing concrete slabs can be polished, some have flaws, such as spalled areas, carpet tack holes and extensive patchwork, which would still show through after polishing. To meet the demand for an aesthetically pleasing solution for polishing imperfect concrete floors, more and more contractors are now installing polished overlays as an economical alternative.