Creating Healing Spaces
Corques Liquid Lino Fluid Applied Seamless Resilient Flooring
CORQUES LIQUID LINO FLUID APPLIED SEAMLESS RESILIENT FLOORING FOR HEALTHCARE/MEDICAL/LONG-TERM CARE/EDUCTAION
Sometimes you must stop and ask yourself…"Is there a better way?"
Is it possible to improve something that has been completed the same way since its invention?
If there was a better way would you embrace this change?
Vadel has searched the globe to bring you the most exciting advancement in the history of Resilient Flooring.
In 1860 the fabrication of linoleum was invented by the Scotsman Frederic Walton. Linoleum is made through the binding of linseed oil and natural materials such as cork and wood flour, mineral fillers, rosin and pigments. After the mixing of the ingredients, the linoleum paste is rolled out on a burlap sheet. For the hardening process the linoleum is kept hanging in the so called 'drying chambers' for several weeks at a temperature of 30 degrees Centigrade. Only when the linseed oil is oxidized the linoleum is ready for transport and installation. The rolls are about 30 meters long, 2 lm wide and weigh up to 200 kg. On site the linoleum is cut to measurement and glued to the subfloor. The joints are welded with welding cord. This process of fabrication is practically unchanged since its origin and takes place over more than 150 years.
Duracryl International has invented a new technique to produce linoleum on site. By adding an extra sustainable vegetable oil binder to the linoleum mix it is now possible to pour liquid linoleum. This extra binder creates a hybrid hardening within hours. The binder is based on natural renewable oil and works with and next to the linseed oil. All other materials of this liquid lino are the same as the ones of the linoleum made in a factory.
All known and proven characteristics of classic linoleum are now being improved with a labor friendly installation (approx. 15 kg), no joints, but seamless, no cutting losses, no maximum roll lengths, a high flexural strength and a high chemical resistance. Furthermore is the product hardening without external warmth and within hours.
The new linoleum was launched in the Netherlands in the beginning of 2016 and is branded:
Corques Liquid Lino
Main Benefits and Advantages
---
Corques Liquid Linoleum is a fluid applied resilient floor covering product.
Supplied in 33lb buckets and mixed on site.
Poured on floor and troweled smooth leaving a 2.5-4mm comfort flooring. (This is not and epoxy)
MAIN BENEFIT: Due to the fluid applied instillation the final product is completely seamless.
Cures in 6-8 hours and then a top coat is applied which cures in 24hours; then the floor is ready for service.
Is made from natural raw materials up with resins, linseed oil, wood and cork flour, limestone, cork and natural pigments. Ingredients are Red List Free. Makes it a preferable ecological floor covering
During the production of the material there is no waste of materials.
Instillation: Because of the specific techniques and delivery form there is no waste or loss of materials during the installation.
Corques Liquid is 100% Biodegradable at end of lifecycle.
Has no VOC, zero off-gassing, no PVC and no plasticizers.
Has a 10 year warranty
Similar floor preparation compared to other sheet goods. Just like other flooring types Floor prep is critical to allow for proper substrate to accept the Fluid Floor. The substrate must be sound and level.
This product is self-adhering and no adhesives are required. Adhesives have negative effects on emissions.
Fast install! Corques liquid Lino installs at a rate of 1000sf/hour and 15000sf/day. Compare approximately 2 weeks to install a 4000 square foot healthcare area with integral cove base, multiple rooms and inside and outside corners. With liquid lino it would take 4 hours to properly install the same 4000 square foot area. (Floor prep will be the same for both areas).
Availability of an integral cove base. Durabase is applied first to the wall then the floor is poured up to the base and chemically bonds leaving the seamless design. As an added benefit the base is made from 100% recycled plastic bottles.
Product will also bond directly to door jams and thresholds eliminating the need for silicone and caulking.
The key raw materials include linseed oil, which comes from the flax plant seeds, castor oil from the castor bean or castor oil-plant a species of flowing plant, recycled cork particles and limestone. Because of the natural raw materials it is biodegradable.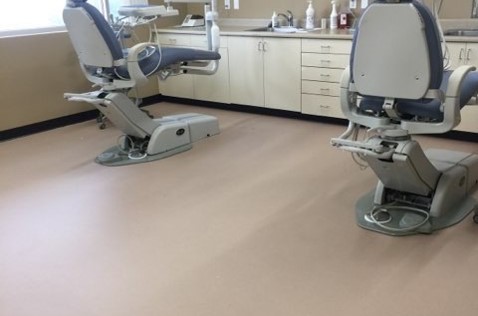 Available in 54 amazing designer colors
Use colors in their own or together to create designs
Easy maintenance/Similar to other sheet goods
One hundred square feet to one million square feet there will be no seams
Due to the super-fast install and fast curing process large areas can be poured very fast saving time and money and not holding up other trades.
Due to the completed seamless nature of the flooring it is especially suited for the healthcare industry where seams in flooring can cause issues.
Can also be used for other areas suited for resilient floors.
This process removes 90% of the manufacturing used to produce sheet goods from the equation.
Is resistant to most chemicals and liquids found in hospital settings.
Chemical resistant
Highly stain resistant 
Color stable 
Noise reducing 
Liquid tight
Impact and indent resistant. High recovery 
Wide variety of colors 
Design appearance 
Durable
Sustainable 
Easy maintenance 
Based on renewable resources 
Free of chlorine and PVC 
Free of plasticizers 
Phthalate Free 
Odor free 
Antimicrobial

REQUEST SAMPLES
* Samples are free for the local Alberta architectural and design community. If you are out of Alberta please fill out the form and a qualified Sales Representative will contact you to discuss your project.
* Currently, not accepting any residential homeowner requests.